Citizens for Nuclear Technology Awareness is a nonprofit organization that advocates for all aspects of nuclear technologies. Our mission is to educate the public by providing objective information on the value of nuclear technology with respect to our health, economy, environment and national security.
We live in a radioactive world! We use nuclear science and technology to power our homes, diagnose and treat serious health issues, make our food supplies safe and high yielding, and make our world better. However, some members of the public lack understanding of the concepts of radiation and nuclear materials, how we can deal with them safely, and how important they are to our lives.
CNTA developed the Educator Grants Program as an alternative to its classroom and field trip experiences for teachers. The program is an opportunity to support local teachers in their classrooms and give them the resources to develop projects or enhance their student's experience with science and technology.
The grants can be used to fund a project in any area of science or technology; however, proposals that promote an increased understanding of atomic and nuclear fundamentals, radiation and nuclear materials safety, and applications of nuclear technology will be given extra consideration.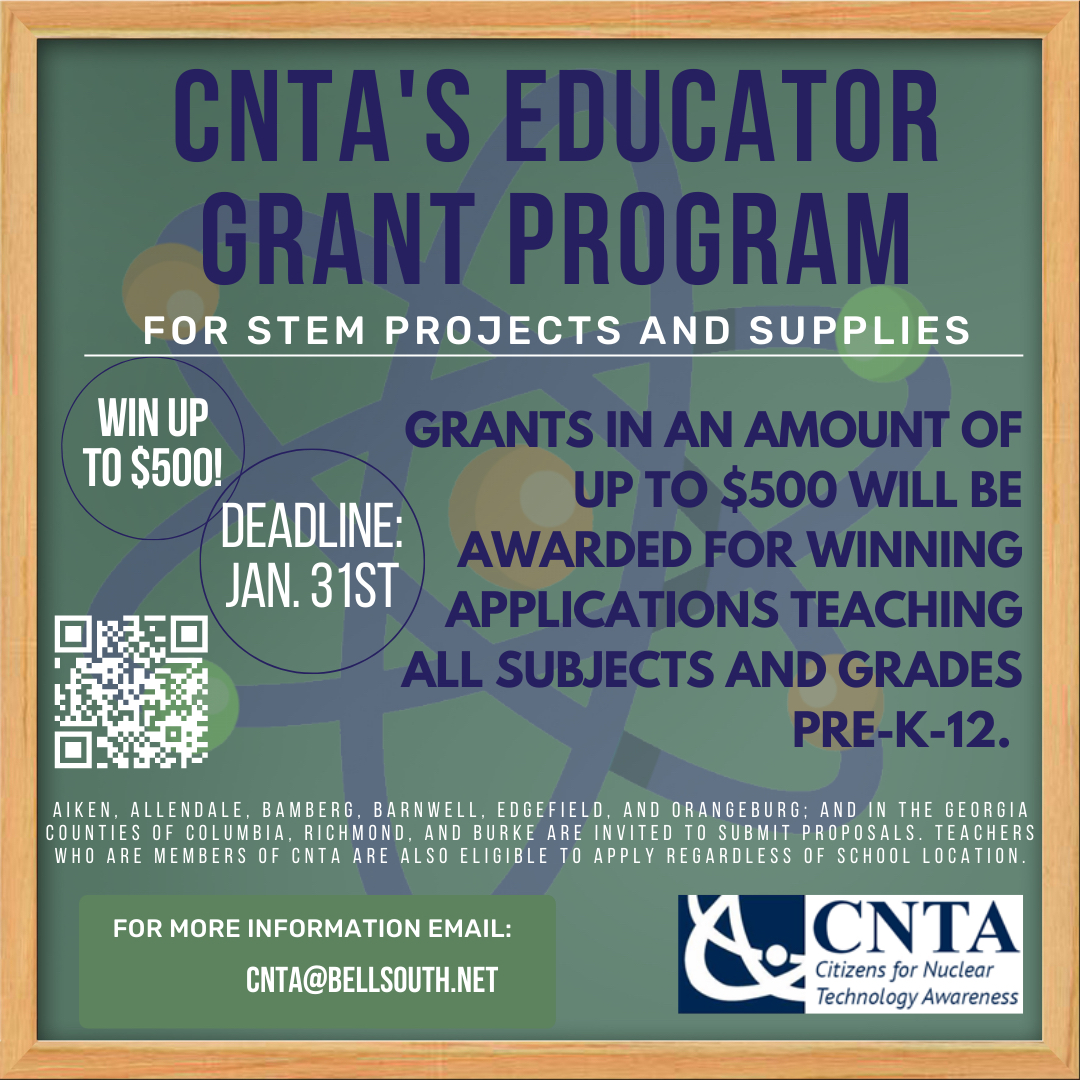 The 2024 Educator Grant Program will start accepting applications in October 2023! Check back here for information.
Teachers in the South Carolina counties of Aiken, Allendale, Bamberg, Barnwell, Edgefield, and Orangeburg; and in the Georgia counties of Columbia, Richmond, and Burke are invited to submit proposals. Teachers who are members of CNTA are also eligible to apply regardless of school location.
Application MUST be received by CNTA by close of business on JANUARY 31, 2024!
Completed application should be sent by email to CNTA@bellsouth.net. A return email will be sent within 2 business days of application receipt. In the subject line, type "CNTA Educator Grants Program." Original copies should be kept for your records. 
Awarding the 2023 Educator Grants
The 2023 grant winners were:
Carrie Lucas, elementary special education, Warrenville Elementary School;
Michalene Langford, elementary special education, Warrenville Elementary School;
Jennifer Donaldson, elementary STEM, Richmond Hill K-8;
Crystal McDowell, 10th-12th grade biology, Greenbriar High School; and,
Leslie Olig, media specialist, Euchee Creek Elementary School.
The teachers use the grant funds to purchase STEM kits such as Introducing Solar Electricity to Special Education Students, Hands-On Coding Robots Challenges, and Implementation of Illuminating Cancer with Cancer Fighting Proteins.
In addition to CNTA, sponsors of the CNTA Educator Grants Program include American Nuclear Society-Savannah River, Huntington Ingalls Industries, Battelle Savannah River Alliance/Savannah River National Laboratory, and private contributions.
"These grant awards are part of our continued partnership with area educators to provide instruction in the areas of science and math. We hope students find these activities informative, interesting and most importantly fun."