Citizens for Nuclear Technology Awareness is a nonprofit organization that advocates for all aspects of nuclear technologies. Our mission is to educate the public by providing objective information on the value of nuclear technology with respect to our health, economy, environment and national security.
We live in a radioactive world! We use nuclear science and technology to power our homes, diagnose and treat serious health issues, make our food supplies safe and high yielding, and make our world better. However, the some members of the public lack understanding of the concepts of radiation and nuclear materials, how we can deal with them safely, and how important they are to our lives.
CNTA developed the educator grants program as an alternative to its classroom and field trip experiences for teachers. The grants program is an opportunity to support local teachers in their classrooms and give them the resources to develop projects or enhance their student's experience with science and technology.
The grants can be used to fund a project in any area of science or technology; however, proposals that promote an increased understanding of atomic and nuclear fundamentals, radiation and nuclear materials safety, and applications of nuclear technology will be given extra consideration.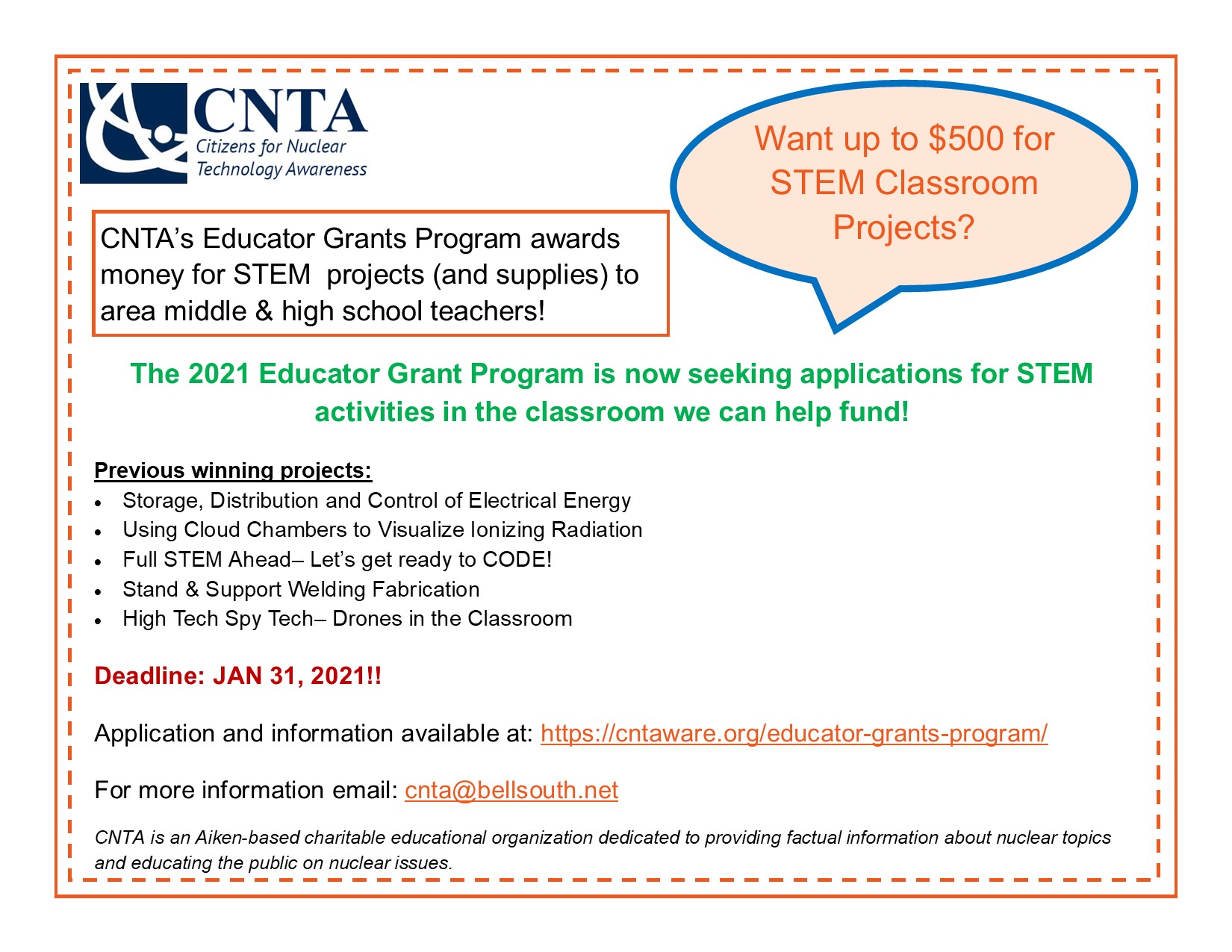 Middle and High schools in the South Carolina counties of Aiken, Allendale, Bamberg, Barnwell, Edgefield, and Orangeburg; and in the Georgia counties of Columbia, Richmond, and Burke are invited to submit proposals. Teachers who are members of CNTA are also eligible to apply regardless of school location.
Application MUST be received by CNTA by close of business on JANUARY 31, 2021!
Completed application should be sent by email to CNTA@bellsouth.net. A return email will be sent within 2 business days of application receipt. In the subject line, type "CNTA Educator Grants Program." Original copies should be kept for your records. 
Awarding the 2020 Educator Grants
CNTA in 2020 chose to award 6 grants to area educators. They are:
Dr. Antonino Carnevali, 12th grade Physics, Governor's School for Science & Math
David Kassner, Susan Rutt, and Hannah Wingrove; 10th grade Chemistry; Lakeside High School
Kristina Istre, 8th grade science, A.R. Johnson Health Science and Engineering Magnet School
Donita Legoas, 6th grade science, A.R. Johnson Health Science and Engineering Magnet School
Trina Stidem and Alvina Jackson, middle-level intro to coding, Langley Bath Clearwater Middle School
Angela Virella, 6th grade social studies, Jackson STEM Middle School
In addition to CNTA, sponsors of the CNTA Educator Grants Program are American Nuclear Society-Savannah River, Huntington Ingalls Industries, Savannah River National Laboratory, and the SRS-Community Reuse Organization.
"These grant awards are part of our continued partnership with area educators to provide instruction in the areas of science and math. We hope students find these activities informative, interesting and most importantly fun."
Recognizing the 2019 Educator Grant Winners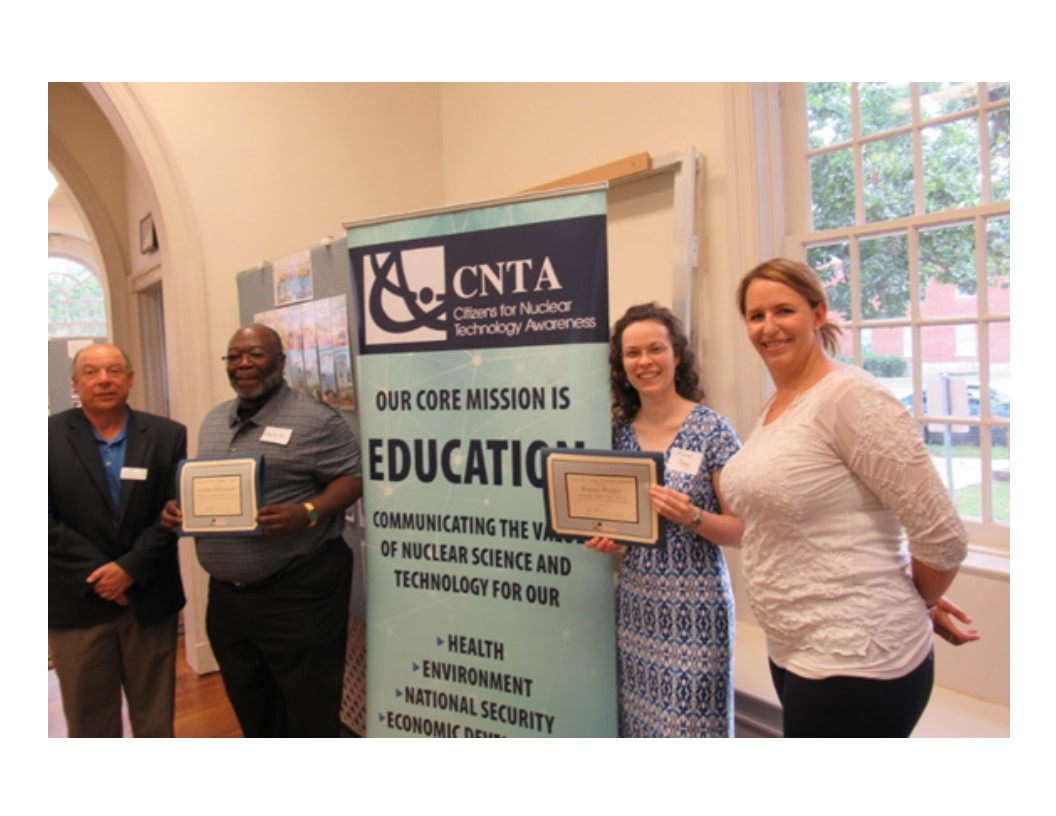 The 2019 grant winners are:
Jack Overholser, 10th and 11th grade chemistry, South Aiken High School;
Kacee Poppy, Honors & AP Chemistry I, South Aiken High School; and,
Andrie McFadden, 9th-12th grade welding, TW Josey High School/MEB Career Center.
Overholser's project, "Irradiated Salt Demonstration," will exemplify radioactive decay through an experiment that compares irradiated salt and normal salt. Students will use a Geiger counter to compare the radioactivity readings of both salts, as well as background radiation
"Many of the concepts of Nuclear Chemistry can be difficult for students to wrap their heads around or imagine," Overholser said. "I believe this demonstration, as well as being able to use the Geiger counter in other instances throughout the unit, will make some of the concepts both more interesting and also more realistic/memorable for the students."
With Poppy's project, "Using Cloud Chambers to Visualize Ionizing Radiation," students will get to experience ionizing radiation at an up-close and personal level. From this lab activity, students will make drawings of what they observe in the cloud chamber and determine the difference between the visible tracks of alpha and beta radiation.
McFadden's project, "Stand & Support," will give students hands-on experience in fabricating and welding as they design and build welding stands for new welding machines. Currently, welding machines sit on the floor, according to McFadden.
"The stands will maintain and preserve the longevity of the welding machines for continued laboratory/shop experiences," McFadden said.
A reception honoring the three teachers was held at the SRS Heritage Museum in Aiken on Tuesday June 11, 2019. Representatives from the grant sponsors, recipients' schools, as well as CNTA board members and education committee members were in attendance.
In addition to CNTA, sponsors of the CNTA Educator Grants Program are Huntington Ingalls Industries, Savannah River National Laboratory, SRS-Community Reuse Organization, plus a private foundation and an anonymous donor.
CNTA is excited to establish this educator grants program to facilitate more educational outreach by the organization, said Dr. Jim Marra, CNTA Executive Director.
"These grant awards are just the beginning of a continued partnership with area educators to provide innovative instruction to high school students on principles of radiation, fundamentals of radioactive materials, and applications of nuclear technologies."