The Fred C. Davison Distinguished Scientist Award is given annually to honor scientists or engineers from the region whose lifetime scientific contributions have been exceptional. The award was first presented at CNTA's 13th Annual Edward Teller Lecture and Banquet on November 18, 2004.
Dr. Fred C. Davison was Chairman of CNTA's Board of Directors from 1994 until his death in 2004. It is no exaggeration to say that Fred's stature and influence were largely responsible for CNTA's growth and success during those ten years. Fred attended Emory University before obtaining a Veterinary degree from the University of Georgia and later a Ph.D. in Biochemistry and Pathology from Iowa State University. While in Veterinary School he met Dianne, who became his beloved wife. Dianne also obtained her Veterinary degree.
Fred was one of those rare people who was admired and loved by everyone privileged to know him. He was a leader in the best meaning of the word. He had enormous intellect, yet empathized with and befriended everyone, regardless of station. His friendly demeanor and great humor were ever present and graced every meeting with him.
After Fred's retirement from the University of Georgia, he moved to Augusta and almost immediately became a highly effective community leader. He was President and Chief Executive Officer of the National Science Center Foundation, funding innovative secondary education in science and mathematics. He was President of the Georgia-Carolina Boy Scouts Council. He was an active Rotarian and an elder of Reid Memorial Presbyterian Church, where he taught an adult Sunday School class.
Much has been said and written about Fred's enormous contributions to his alma mater, the University of Georgia, where he served as President for 19 years. Under his leadership, the University of Georgia became one of the strongest graduate and research institutions in the United States. Student enrollment grew from 15,600 to 25,000 and graduate enrollment more than doubled. He viewed enhanced education in Math and Science as important to the future of our nation. Everyone who knew Fred was pleased that before his death he was
able to attend the dedication of the Fred C. Davison Life Sciences Complex in Athens GA, a 257,000 square foot facility for biotechnology research.
Because of Fred's enormous contributions to CNTA, the annual Distinguished Scientist Award was renamed the Fred C. Davison Distinguished Scientist Award. We believe Fred would be pleased by this, because he believed that our recognition of outstanding local scientists was an important thing to do.
Dr. Theodore (Ted) Besmann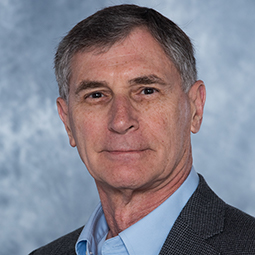 Citizens for Nuclear Technology Awareness (CNTA) is pleased to announce that the winner of the 2021 Fred C. Davison Distinguished Scientist Award is Dr. Theodore (Ted) Besmann. This prestigious award was announced on October 28, 2021, at the 30th Annual Teller Lecture and Banquet held in Aiken, SC.
Dr. Besmann is Professor and SmartState Chair, and Director of the General Atomics Center of Economic Excellence, in the Nuclear Engineering Program at the University of South Carolina (USC). He is currently the Deputy Director of the "Center for Hierarchical Waste Forms" Energy Frontiers Research Center (EFRC) for the U.S. Department of Energy. He advises students in the Mechanical Engineering and Nuclear Engineering graduate programs and is an adjunct faculty member in Chemical Engineering.
Dr. Besmann received his B.E. in Chemical Engineering at New York University in 1970, his M.S. in Nuclear Engineering from Iowa State University in 1971, and his Ph.D. in Nuclear Engineering from Pennsylvania State University in 1976. From 1975 to 1985 he was a member of the Chemical Technology Division development staff at the Oak Ridge National Laboratory (ORNL), and, from 1985 to 2014, the head of the Surface Processing and Mechanics Group in the Materials Science and Technology Division at ORNL. From 2011 to 2014, he was a Full Professor in Nuclear Engineering at the University of Tennessee – ORNL, and has been on the faculty at USC from 2014 to the present.
Dr. Besmann is noted for his groundbreaking research in the modeling of nuclear fuels and other materials. His name is attached to the "Lindemer-Besmann" model for uranium oxide fuels, and his numerous publications have accumulated over 5,000 citations. These publications include over 160 refereed journal and proceedings papers, six book chapters, and the co-authorship of A Desirable Energy Future. He holds six patents and is the Associate Editor of the Journal of the American Ceramic Society.
Dr. Besmann is the former Chair of the Materials Research Society Government Affairs Committee, the former Vice President for Corporate Relations in the American Ceramic Society, the current Chair of the OECD Nuclear Energy Agency "Expert Group on Multi-scale Modelling of Fuels and Structural Materials," and the current Vice-Chair to the OECD Nuclear Energy Agency program on "Thermodynamics of Advanced Fuels International Database." He is the recipient of the D.T. Rankin Award in 2016, the ORNL/UT-Battelle Distinguished Engineer Award in 2010, and a Fellow of the American Nuclear Society in 2010.
"The impact of his results is exceptional, as demonstrated by the continuous, increasing number of citations of his work," said Dr. Marius Stan, Senior Scientist and Program Leader at the Argonne National Laboratory. "His generosity in sharing scientific expertise and his willingness to help the younger generation of nuclear scientists is remarkable and adds to the impact of his work."
"Professor Besmann is greatly admired for excellent teaching and mentorship; leadership of the SmartState Center and the EFRC; and for collegiality, balance, and valuable perspective among our faculty," said former USC President Robert L. Caslen, Jr.