The Young Professional Fundraiser is an event with the purpose to raise funds to support our outreach to Young Professionals (members under 40). The funds go toward free membership for Young Professionals and supports different events like the Tap into Nuclear series.
After the success of the 2019 Oyster Roast

, the committee is excited to once again host a low country boil at the Palmetto Golf Club in Aiken, SC this fall. CNTA members, as well as non-members, can expect a fun-filled evening of seafood (and vegetarian friendly food), live music, and more at a distinguished local venue.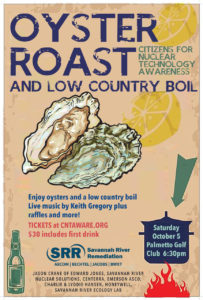 Details on the 2020 Young Professional Fundraiser and the ability to purchase tickets can be found on the Low Country Boil Event Page. 
Overview:
October 17th, 2020 from 6:30 – 9:30 PM at Palmetto Golf Club in Aiken SC.
Tickets are $40/piece. There is a waitlist for tickets!! Contact cnta@bellsouth.net to be placed on the waitlist.
This event is made possible by the support of our many sponsors and volunteers. Thank you for your generosity!
For more information, contact the fundraiser chair, Josh Flach, at flachjosh@gmail.com.
This event has had different looks over the years. In 2017 and 2018 it was a Costume Ball. In 2019 it was an Oyster Roast.
Each spring the young professionals decide what type of event they would like to host and organize the event.
This event happens only through the support of sponsors and volunteers, so it is a great opportunity to get more involved with our organization.