PURPOSE
The purpose of this award is to recognize accomplishments in applying nuclear technology, advancing education in nuclear technology, increasing public awareness of the benefits of nuclear technology and in promoting and defending the safe and effective use of nuclear technology.
DESCRIPTION OF PROGRAM
CNTA presents this award to a person who has made significant contributions in the advancement of nuclear.  The award has a very broad reach with all-inclusive consideration outside of traditional scholarly, academic nuclear science and technology, to include non-technical fields.  Areas of considerations are many, including but not limited to education, training, management, leadership, applied engineering, medicine, energy, health protection, public relations, journalism, communications, safety, environmental impact and remediation, national security, and workforce development.  Candidates may also make contributions in multiple areas over an extended period of time.  The award is presented annually at the fall CNTA Teller Lecture & Banquet. 
2019 Nuclear Service Award Recipient
The Citizens for Nuclear Technology Awareness (CNTA) recently awarded the first-ever Nuclear Service Award to J. Scott Kirk for his significant lifetime achievements in the advancement of nuclear technology.
Kirk's work has spanned from licensing nuclear facilities that provide nuclear fuel for the United States Navy, to supporting nuclear non-proliferation programs established by the U.S. Department of Energy (DOE), to being a recognized expert in his roles at providing solutions to many of the complex waste management problems that have faced the nuclear industry.
Currently, he is the Environmental Compliance Manager at Savannah River Remediation, the liquid waste contractor at the Savannah River Site (SRS). In this role, he is responsible for environmental permitting and regulatory interfaces. He is also responsible for managing waste characterization operations required to disposition low-level radioactive waste, transuranic waste, hazardous waste, and mixed radioactive wastes generated at the Defense Waste Processing Facility (DWPF), Saltstone Production Facility, and high-level waste (HLW) Tank Farms, all at SRS.
CNTA Executive Director Jim Marra said Kirk has for years been thoroughly engaged in seeking innovative solutions to some of the most significant radioactive waste management challenges.
"Scott's vast list of accomplishments have demonstrated a great passion of the use of nuclear technology across a broad sector of the industry for over 30 years," Marra said. "His innovative approaches to solving complex issues facing the nuclear industry has been impressive. We are delighted that he is the recipient of the program's inaugural Nuclear Service Award."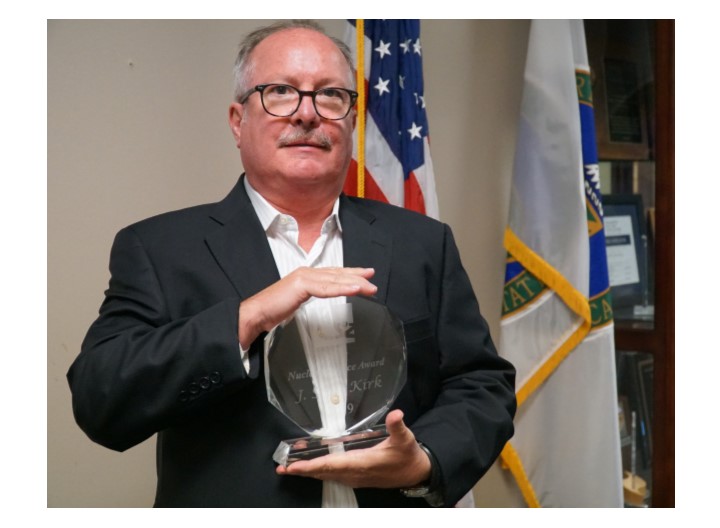 A Charleston, South Carolina, native, Kirk has participated in numerous rulemaking initiatives; authored multiple scientific papers on these topics; and presented his perspectives with the nuclear industry, NRC Commissioners, and the National Academies of Sciences, Engineering, and Medicine.   
Among many other notable achievements, Kirk has been a leader in the DOE's recent reinterpretation of the definition of HLW by providing regulatory/technical guidance to the DOE to conduct a pilot program to classify certain waste from DWPF as non-HLW for dispositioning as low-level waste at a commercial disposal facility.
See the Department of Energy story on the award here and the Augusta Chronicle article here.