PURPOSE
The purpose of this award is to recognize accomplishments in applying nuclear technology, advancing education in nuclear technology, increasing public awareness of the benefits of nuclear technology and in promoting and defending the safe and effective use of nuclear technology.
DESCRIPTION OF PROGRAM
CNTA presents this award to a person who has made significant contributions in the advancement of nuclear.  The award has a very broad reach with all-inclusive consideration outside of traditional scholarly, academic nuclear science and technology, to include non-technical fields.  Areas of considerations are many, including but not limited to education, training, management, leadership, applied engineering, medicine, energy, health protection, public relations, journalism, communications, safety, environmental impact and remediation, national security, and workforce development.  Candidates may also make contributions in multiple areas over an extended period of time.  The award is presented annually at the fall CNTA Teller Lecture & Banquet. 
2020 Nuclear Service Award Recipient
Citizens for Nuclear Technology Awareness (CNTA) is pleased to announce that the winner of the 2020 Nuclear Service Award is Dr. Susan Wood. This prestigious award was announced on October 22, 2020 at the Up and Atom breakfast in Aiken, SC.
Dr. Wood retired in 2002 following a long and distinguished career managing the Westinghouse Manufacturing Technology Center in Baltimore, MD and serving for eight years as the Director of the Savannah River Technology Center at the Savannah River Site. She received her Hons. B.Sc. in Materials Engineering, her M.S. in Metallurgical Engineering, and her Ph.D. in Materials Engineering from the University of Pittsburgh. She holds patents in materials engineering and is the author of more than 30 papers for scientific journals, seminars, reports, and presentations. She also served on the DOD Defense Science Board and as a mentor for the Defense Science Study Group at the Institute for Defense Analyses.
Dr. Wood's impact on the local nuclear community is extraordinary. She served on the CNTA Board of Directors from 2003 to 2019 and was chair from 2004 to 2012 and from 2018 to 2019. She was appointed by the Governor of South Carolina to the Technology Council in 1997 and in 2001 to the Technology Transition Team Steering Committee. She is on the Board of Trustees for the South Carolina Research Authority and the Board of Directors for the Southeastern National Sciences Academy.
Dr. Wood is committed to the education of students across the region in STEM fields. She helped initiate the CNTA High School Essay Contest, helped develop the CNTA Educator Grants Program, and chairs the Robert Maher Memorial Scholarship committee. Dr. Wood has volunteered for countless educational outreach opportunities including "Bringing Nuclear to the Classroom" workshops, Science Education Enrichment Day, SRS Retirees Association events, and Aiken Earth Day. She is a founding sponsor of "Introduce a Girl to Engineering Day" at the USC-Aiken Ruth Patrick Science Center and previously served on the Board of Directors for the United Way of Aiken County.
Dr. Wood received the Society of Women Engineers Upward Mobility Award in 1997, the Federal Laboratory Consortium for Technology Transfer Laboratory Director of the Year Award in 1999, the National Management Association Savannah River Chapter Executive of the Year Award in 2001, and the CNTA Distinguished Scientist Award in 2002.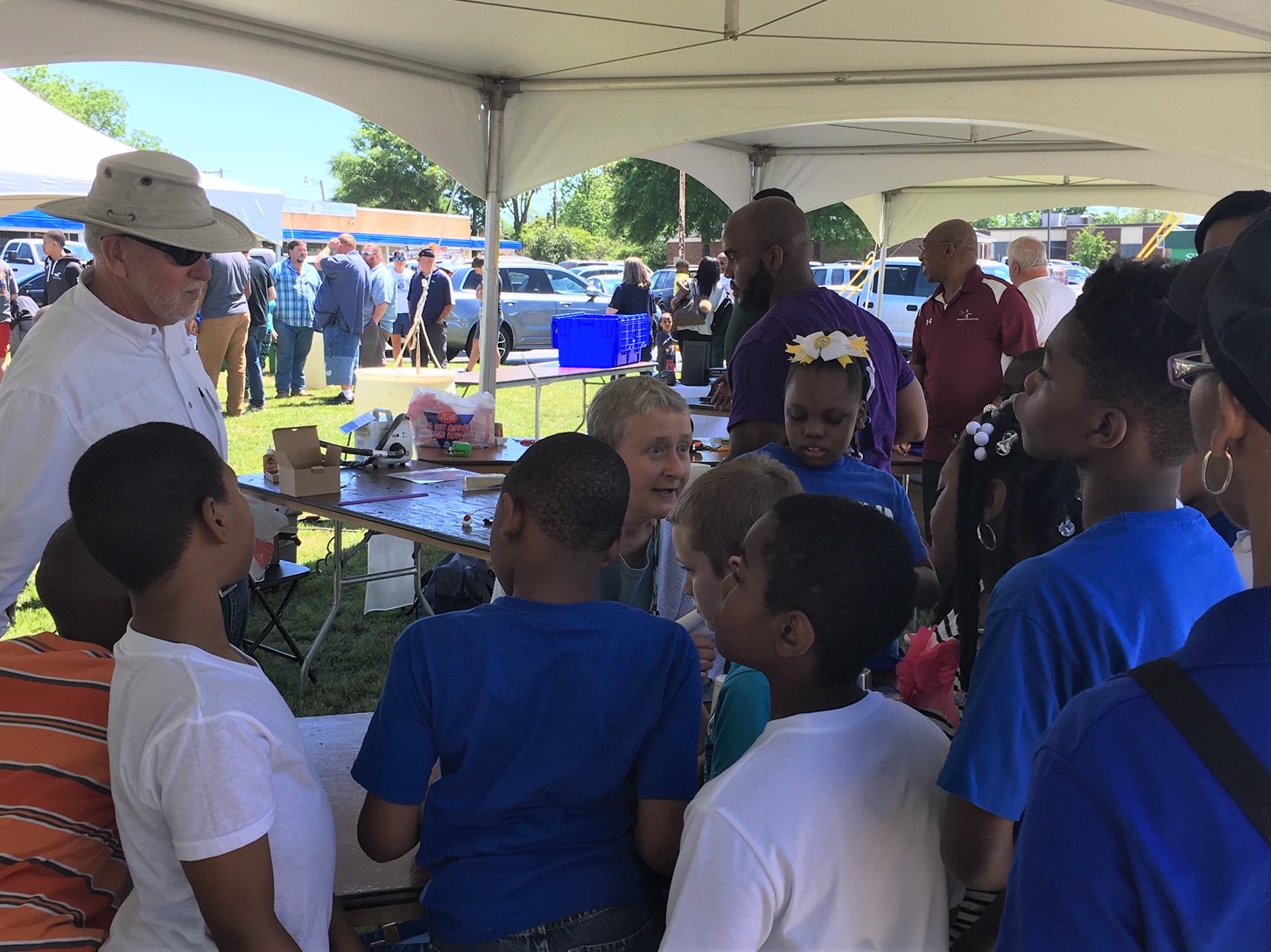 "Susan Wood is one of the most influential members of our nuclear community and her actions have made Aiken a better place to live," said Vice Admiral Charles L. Munns, USN (ret). "Aiken has many incredible citizens connected to our nuclear community, but I cannot imagine any of them more worthy and deserving that Susan Wood."
"You would see Susan Wood at almost every outreach event promoting the benefits of nuclear technologies," said Sharon Marra, Savannah River National Laboratory (SRNL) Deputy Director. "I have been personally inspired by Susan's ability to lead and impressed by the time and effort she has spent educating our community and future generations of leaders."
"Susan has served as a mentor to me. She has invested her time and energy into education outreach and mentoring students, especially women, to pursue STEM careers, and I am honored to learn from her example," said Marissa Reigel, R&D Execution Manager for Actinide Materials Science and Technology at SRNL.
2019 Nuclear Service Award Recipient
The Citizens for Nuclear Technology Awareness (CNTA) recently awarded the first-ever Nuclear Service Award to J. Scott Kirk for his significant lifetime achievements in the advancement of nuclear technology.
Kirk's work has spanned from licensing nuclear facilities that provide nuclear fuel for the United States Navy, to supporting nuclear non-proliferation programs established by the U.S. Department of Energy (DOE), to being a recognized expert in his roles at providing solutions to many of the complex waste management problems that have faced the nuclear industry.
Currently, he is the Environmental Compliance Manager at Savannah River Remediation, the liquid waste contractor at the Savannah River Site (SRS). In this role, he is responsible for environmental permitting and regulatory interfaces. He is also responsible for managing waste characterization operations required to disposition low-level radioactive waste, transuranic waste, hazardous waste, and mixed radioactive wastes generated at the Defense Waste Processing Facility (DWPF), Saltstone Production Facility, and high-level waste (HLW) Tank Farms, all at SRS.
CNTA Executive Director Jim Marra said Kirk has for years been thoroughly engaged in seeking innovative solutions to some of the most significant radioactive waste management challenges.
"Scott's vast list of accomplishments have demonstrated a great passion of the use of nuclear technology across a broad sector of the industry for over 30 years," Marra said. "His innovative approaches to solving complex issues facing the nuclear industry has been impressive. We are delighted that he is the recipient of the program's inaugural Nuclear Service Award."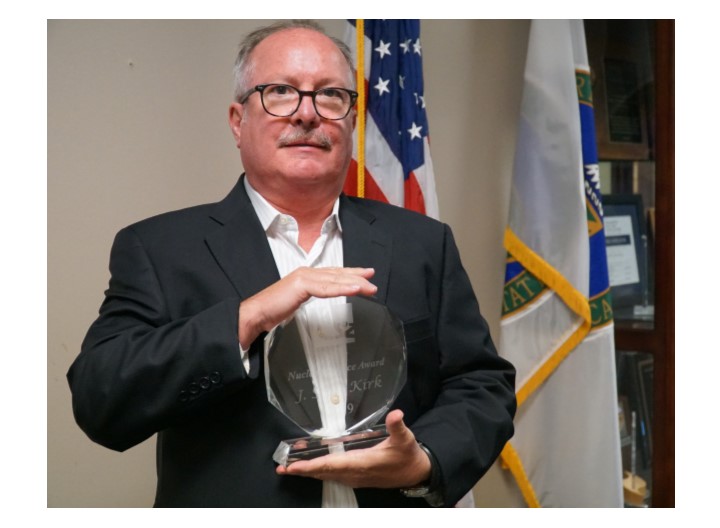 A Charleston, South Carolina, native, Kirk has participated in numerous rulemaking initiatives; authored multiple scientific papers on these topics; and presented his perspectives with the nuclear industry, NRC Commissioners, and the National Academies of Sciences, Engineering, and Medicine.   
Among many other notable achievements, Kirk has been a leader in the DOE's recent reinterpretation of the definition of HLW by providing regulatory/technical guidance to the DOE to conduct a pilot program to classify certain waste from DWPF as non-HLW for dispositioning as low-level waste at a commercial disposal facility.
See the Department of Energy story on the award here and the Augusta Chronicle article here.