Bob Maher spent his 48-year career at the Savannah River Site in technical and managerial assignments. He was a tireless and able manager who died September 14, 2002. At the time of his death, he was Vice President and General Manager of Strategic Planning and Mission Development for Washington Savannah River Company. Bob Pedde, President of WSRC said, "Bob Maher was a phenomenal resource to me and to everyone who preceded me." Early in 2002, Mr. Maher was awarded the Order of the Silver Crescent by the South Carolina Governor at the time, Governor Jim Hodges.
Starting in 2003, CNTA has awarded college scholarships in memory of Bob Maher. Winners are honored at the annual Edward Teller Lecture and Banquet each fall.
To award annually a $5,000 scholarship to a student who demonstrates outstanding college level academic achievement in nuclear science/engineering or a related field.
Financial need will be considered. The candidate may submit evidence of unmet need as part of the application.
Candidate must be enrolled as a junior or senior in a university or college within the states of South Carolina or Georgia.
Candidate must have a "B" average overall grade and a "B" average in science/engineering and mathematics for college level course work.
Candidate must be pursuing a B.S. degree in nuclear science, nuclear engineering, or an engineering or science discipline, with coursework and/or research directly related to the nuclear field. Examples include: nuclear applications associated with chemistry or chemical engineering, environmental science or environmental engineering, materials science, mechanical engineering, etc. The candidate may also demonstrate their interest and involvement in the nuclear field by describing a summer research project or their junior/senior thesis topic (see page 3 of application).
Candidate must be a U.S. Citizen.
The application (including transcripts, letter of recommendation, and answers to questions on page 3 of the application) must be received by Citizens for Nuclear Technology Awareness, Inc. (CNTA) by June of each year.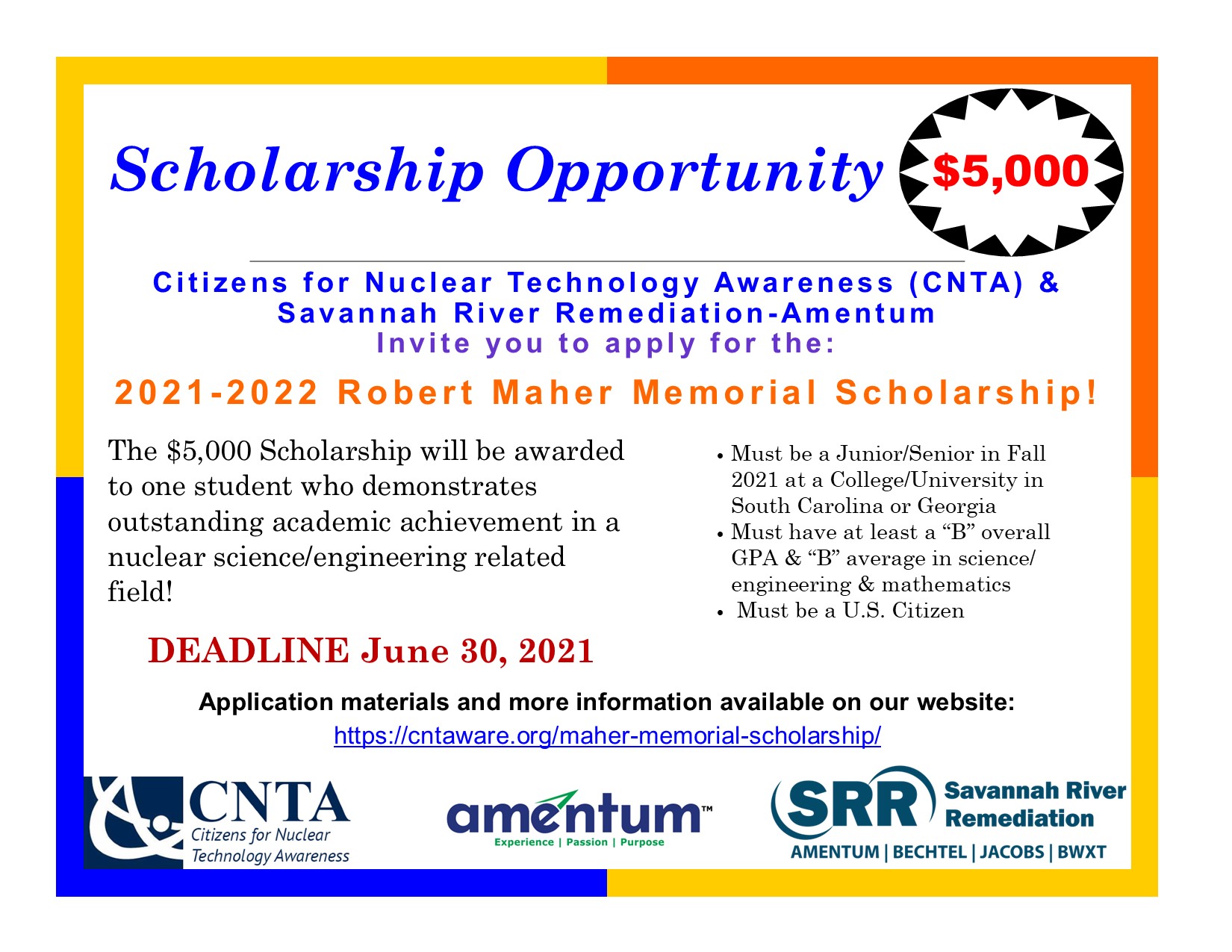 2020 Maher Scholarship Winner
Shai'Anthony Huff, who is from Eastover, South Carolina, is a nuclear engineering student at S.C. State University. CNTA Executive Director Jim Marra said CNTA is proud to award this $5,000 scholarship to such an ambitious, enthusiastic, and deserving student.
"Shai'Anthony has a great passion to pursue nuclear research, continue her education, and grow her knowledge and experience in the field," Marra said. "All these go-getter qualities make Shai'Anthony the ideal candidate to award this scholarship. No doubt she will be an exemplary addition to the nuclear industry."
Huff recently participated in an independent research project in partnership with Clemson University. The project involved Sequential Extraction Procedure for the Speciation of Particulate Trace Metals in radioactive soil. Last summer, she held an engineering intern position conducting research in the Medical Physics Department at the University of Wisconsin.
"The jobs of physicists have always been intriguing, from the complexities of data analysis and evaluations, to applying laws of science to devise methods and develop experiments. More specifically, health physicists and the basis of radiation safety," Huff said.
After graduating with a bachelor's degree, she plans to obtain her doctorate degree in health physics. She aspires to be Nuclear Reactor Health Physicist.
"My number one concern is workers within these nuclear facilities maintaining proper radiation usage and that their exposure is minimal; nuclear is our future, past, and present," Huff said.