Bob Maher spent his 48-year career at the Savannah River Site in technical and managerial assignments. He was a tireless and able manager who died September 14, 2002. At the time of his death, he was Vice President and General Manager of Strategic Planning and Mission Development for Washington Savannah River Company. Bob Pedde, President of WSRC said, "Bob Maher was a phenomenal resource to me and to everyone who preceded me." Early in 2002, Mr. Maher was awarded the Order of the Silver Crescent by the South Carolina Governor at the time, Governor Jim Hodges.
Starting in 2003, CNTA has awarded college scholarships in memory of Bob Maher. Winners are honored at one of CNTA's many fall events.
To award annually a $5,000 scholarship to a student who demonstrates outstanding college level academic achievement in nuclear science/engineering or a related field.
Financial need will be considered. The candidate may submit evidence of unmet need as part of the application.
Candidate must be enrolled as a junior or senior in a university or college within the states of South Carolina or Georgia.
Candidate must have a "B" average overall grade and a "B" average in science/engineering and mathematics for college level course work.
Candidate must be pursuing a B.S. degree in nuclear science, nuclear engineering, or an engineering or science discipline, with coursework and/or research directly related to the nuclear field. Examples include: nuclear applications associated with chemistry or chemical engineering, environmental science or environmental engineering, materials science, mechanical engineering, etc. The candidate may also demonstrate their interest and involvement in the nuclear field by describing a summer research project or their junior/senior thesis topic (see page 3 of application).
Candidate must be a U.S. Citizen.
The application (including transcripts, letter of recommendation, and answers to questions on page 3 of the application) must be received by Citizens for Nuclear Technology Awareness, Inc. (CNTA) by July 1, 2022.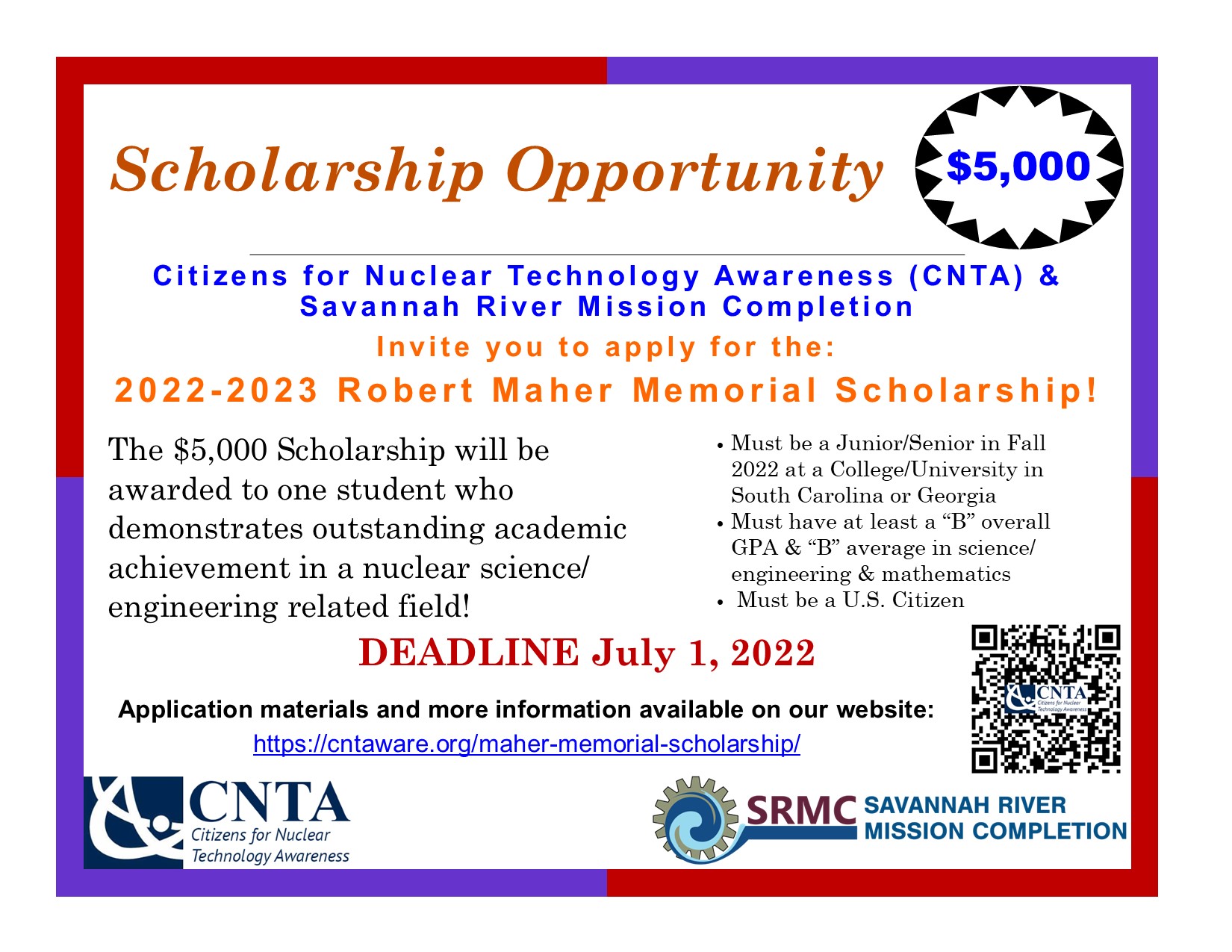 2021 Maher Scholarship Winner
Citizens for Nuclear Technology Awareness (CNTA) and Savannah River Remediation (SRR) announced Kennesaw State University (KSU) student Alisa Machiwalla as the winner of the 2021 Robert Maher Memorial Scholarship.
The scholarship is sponsored by SRR, the liquid waste contractor for the U.S. Department of Energy at the Savannah River Site (SRS).
Machiwalla, who is from Marietta, Georgia, is pursuing a bachelor's degree in mechanical engineering with a minor in nuclear engineering. CNTA Executive Director Jim Marra said CNTA is proud to award this $5,000 scholarship to such an ambitious, enthusiastic, and deserving student.
"Alisa has a great passion to pursue nuclear research and grow her knowledge and experience in the field," Marra said. "All these go-getter qualities make Alisa the ideal candidate to award this scholarship. No doubt she will be an exemplary addition to the nuclear industry."
Her career aspiration is to find solutions to issues that involve clean, sustainable nuclear energy. She also hopes to be involved in the research, design, and implementation of innovative technology, such as the cost-competitive Generation IV reactors or the implementation of small modular reactor technologies.
In the Spring of 2019, she joined Southern Nuclear as an engineering co-op student, completing three rotations with the company, first in the monitoring and diagnostic center at the corporate office and second/third at Plant Vogtle. She has also interned with Enercon in the Next Era and Entergy groups, where she supported engineers to provide upgrade designs for their nuclear plants.
"With the knowledge that I have gained through my experience, I understand now more than ever that with plants closing around the country, nuclear needs to become cost-competitive in the market to meet the demand for clean and reliable energy," Machiwalla said. "I strive to help ensure this future."
She plans to continue assisting in nuclear research at KSU and complete the Nuclear Engineering Minor Program. At KSU, she serves as the American Nuclear Society Kennesaw chapter president.