Apprenticeship Up & Atom
October 20, 2022 @ 7:30 am

-

9:00 am

$20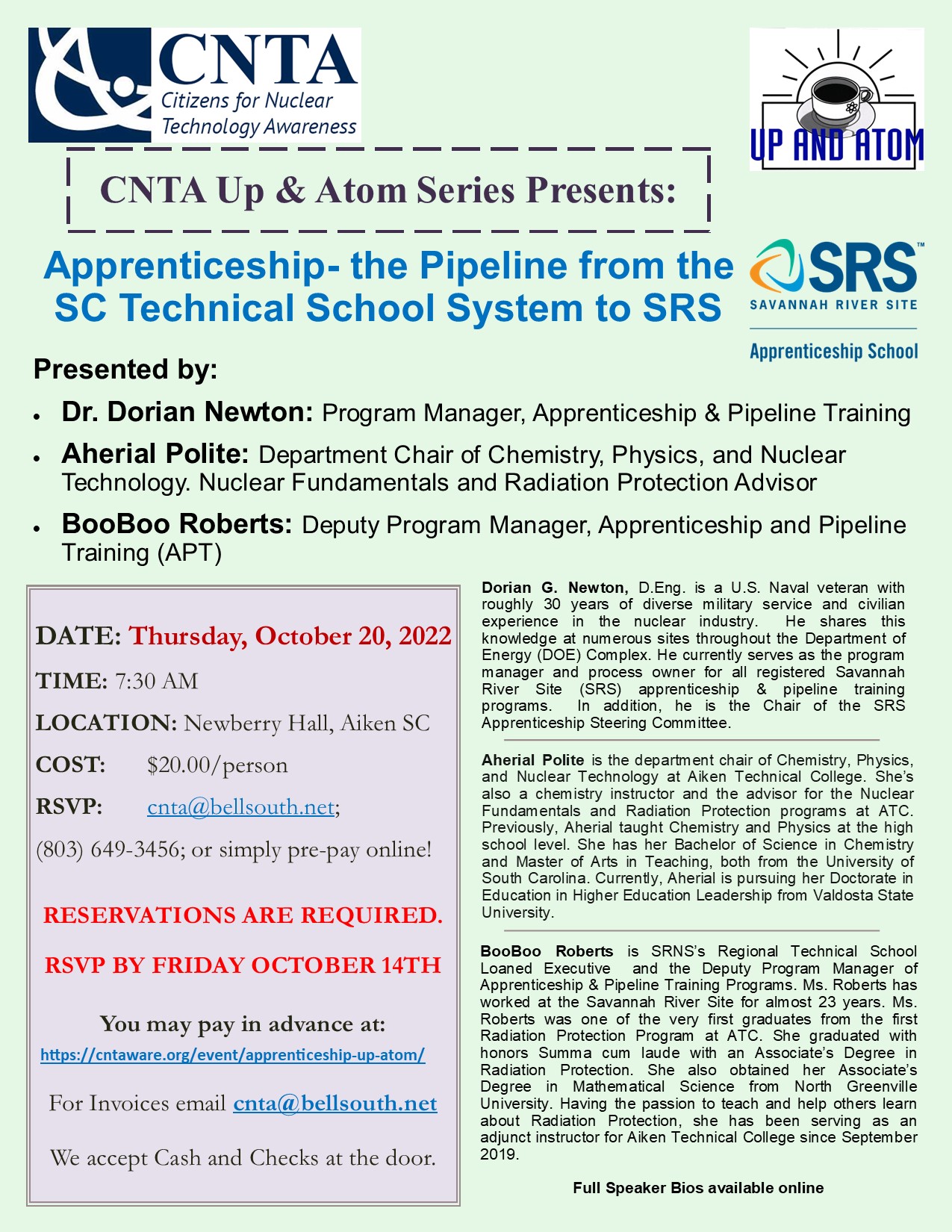 Speaker Bios:
BooBoo Roberts is SRNS's Regional Technical School Loaned Executive and the Deputy Program Manager of Apprenticeship & Pipeline Training Programs. Ms. Roberts has worked at the Savannah River Site for almost 23 years. She has worked all over the site on many different projects/missions as a Radiation Protection Technician (RPT), a Detailed RP First Line Manager, and a RP/General Regulatory/GCO Principal Site Training Specialist.
Ms. Roberts while working as an RPT @ SRS and attending ATC @ night was one of the very first graduates from the first Radiation Protection Program at ATC. She graduated with honors Summa cum laude with an Associate's Degree in Radiation Protection. She also obtained her Associate's Degree in Mathematical Science from North Greenville University. Having the passion to teach and help others learn about Radiation Protection, she has been serving as an adjunct instructor for Aiken Technical College since September 2019.
Speaker Bios:
Dorian G. Newton, D.Eng. is a U.S. Naval veteran with roughly 30 years of diverse military service and civilian experience in the nuclear industry.  He shares this knowledge at numerous sites throughout the Department of Energy (DOE) Complex. He currently serves as the program manager and process owner for all registered Savannah River Site (SRS) apprenticeship & pipeline training programs.  In addition, he is the Chair of the SRS Apprenticeship Steering Committee.
Dr. Newton holds a Bachelor of Science in Mechanical Engineering from Old Dominion University along with a Master of Science and a Doctor of Engineering from George Washington University.   He is the 2020 recipient of the "Black Engineer of the Year Award" for Educational Leadership for his efforts to enhance STEM opportunities of under-served communities.  In addition, the Energy Facility Contractors Group (EFCOG) has recognized his team's contributions in providing practical regional solutions to meet workforce needs.
Aherial Polite is the department chair of Chemistry, Physics, and Nuclear Technology at Aiken Technical College. She's also a chemistry instructor and the advisor for the Nuclear Fundamentals and Radiation Protection programs at ATC. Previously, Aherial taught Chemistry and Physics at the high school level. She has her Bachelor of Science in Chemistry and Master of Arts in Teaching, both from the University of South Carolina. Currently, Aherial is pursuing her Doctorate in Education in Higher Education Leadership from Valdosta State University.
She's joined CNTA and the Savannah River Section of the American Nuclear Society, serving as a board member for both organizations. Additionally, she's a member of Alpha Kappa Alpha Sorority, Inc. and the American Chemical Society. Most notably, Aherial was recognized as Aiken Tech's Faculty Member of the Year at their 2022 Commencement Ceremony. 
The Events Calendar is updated monthly.